Each mission in 2023 is a unique research scope and scenario.
Theia I and II
Analog Mission Simulations focused on development of EVA procedures and accessories for geological and operational aspects of spacewalks. Detailed scenarios of spacewalks and a list of accessories to design and 3d-print during isolation mission at LunAres Research Station will be unique research and learning opportunity for Theia participants.
Hestia I and II
Analog Mission Simulations focused on development of Extreme Isolation Habitat located inside EVA hangar. Creation of safe living environment during EVA simulations is aimed at boosting potential for ICE research at LunAres Research Station. Each crew will have opportunity to help designing, building and testing new shelter and participate in unique studies during testing of the new environment.
Nike
Analog Mission Simulation focused on tests of new workout equipment, training routines and crew medical examinations. Crew will also help in testing new ways of monitoring vitals of analog astronauts inside the LunAres Research Station as well as during simulated spacewalks.
M05
For a unique analog mission with a focus on Extra-Vehicular Simulation research. Mission lead by an experienced commander - Flight Operations engineer at DLR, Matej Poliaček
Crew Call mission info
More info after application and interview.
For crew selection form click here
For research proposal form click here
For mission proposal form click here
Or ask us directly at: info@lunares.space
For our GDPR's policy click here
>25 student discount:
Students below 25 years old can apply for a special offer - 1750 euro price of the mission and research participation. The discount is available to the young engineers, researchers, scientists who can realize a research project during a mission, using the station infrastructure and mission conditions.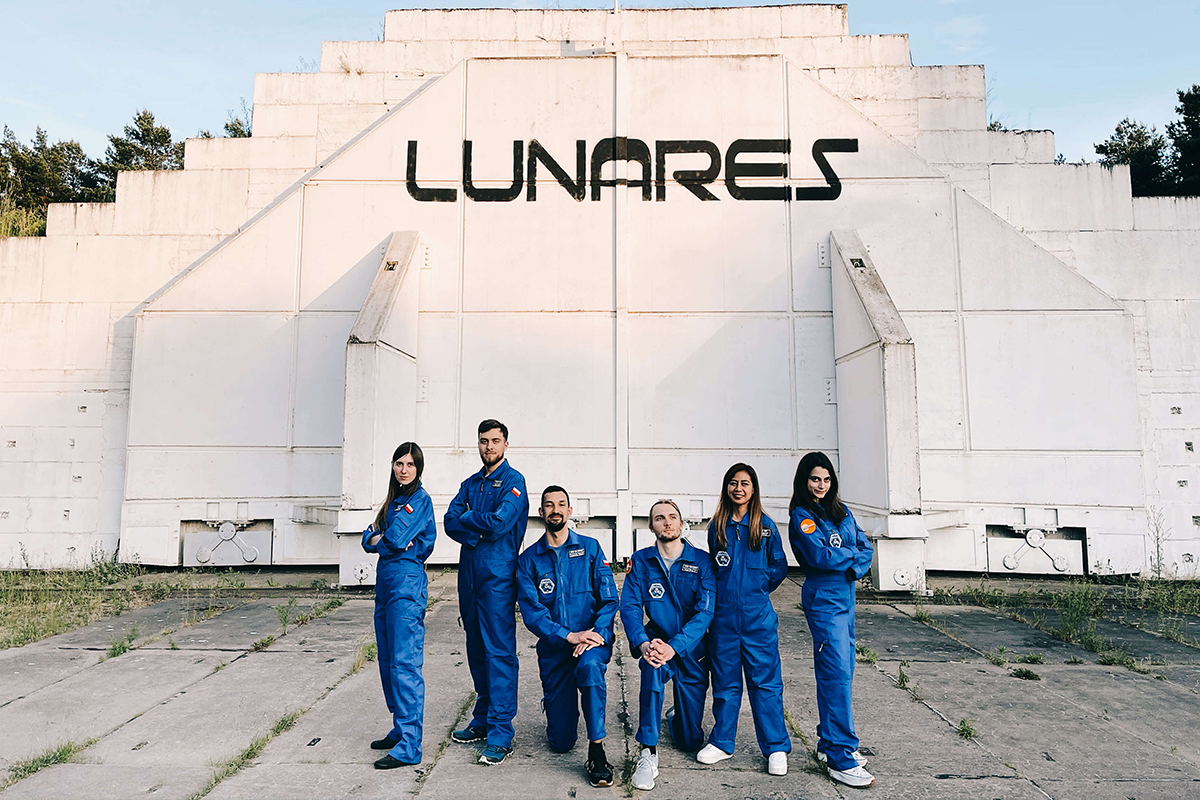 Participation offer and costs:
Participation in a mission costs 2200 euro and includes:
2 weeks analog mission experience in the LunAres Research Station

access to LunAres infrastructure and equipment during the mission
possibility of conducting personal research (consulted with LunAres Team)
access to LunAres mission data (consulted with LunAres Team)
remote Mission Control support and management

access to LunAres Community Discord Server
2 weeks accommodation at LunAres during the mission
2 weeks diet prepared in consultation with dietitians
3 days pre-flight training (LunAres infrastructure maintenance and operation, mission architecture, emergency, research and experiments)
1 day of post-flight
basic medical tests before the mission
Mission outfit

Mission worksuit
Mission hoodie
2x mission patch
2x LunAres patch
2x name tag
2x nationality flag
2x mission role tag
LunAres Partnership Program:
Your institution can join our Partnership Program and join our research network. For first-time-partners, we propose a collaboration that is the risk-free and cost-effective way of starting working together. The collaboration in organizing a particular mission translates to:
one sponsored crewmember or reduced price for a group of participants,
partners proposals for experiments and studies for a string of missions,
mutual promotion on social-media as LunAres partner.
Further collaboration can expand in scope and forms. We are interested in a long-term collaboration that may result in research funding opportunities and integration of international efforts in analog studies. Let's work together.
email us at info@lunares.space
Mission preparation timeline:
Regardless if you are a crew candidate, collaborating researcher or planning your own mission timeframe is fairly similar.
First there is a mission proposal where we seek crew and potential research clients.
Second, the stage is mission preparation when the mission plan is created. At this stage crew is selected and asked to provide us with medical data. Also at this stage all research proposals are reviewed.
On-site preparation is when our teams prepare Lunares for specific studies and crew. At this stage, we are preparing equipment, double check procedures and finalize mission plan
Mission starts with crew training and pre-flight medical check. After that mission starts
After the mission our teams will help researchers secure their data and recover any equipment that was sent to Lunares for this particular mission.